As America's Trapped In Ideological Civil War, China Advances Economy
As America's Trapped In Ideological Civil War, China Advances Economy
by Sara Hsu
---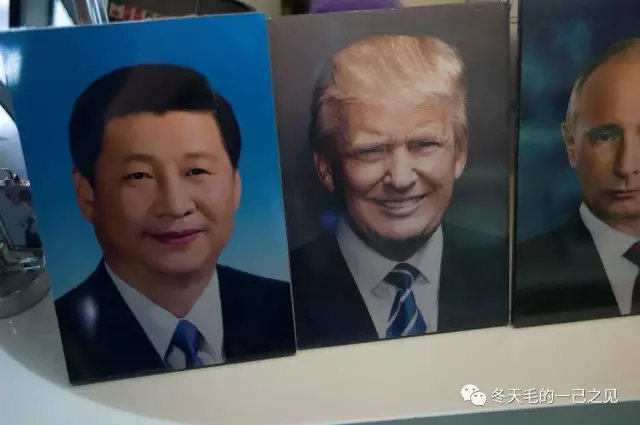 While the United States engages in an ideological civil war about the role of the government in the economy, China has continued to advance its economy under a stable regime, albeit authoritarian. Many analysts have noted that China has an opportunity to become a world leader on several fronts—economy, international relations, environment—while America's legislative juggernaut grinds to a halt, and the differences in legislation passed in the U.S. and China after President Trump took office could not throw this into starker relief.
就在美国因为人们对政府应在经济中扮演的角色意见不一而大打意识形态内战时,中国经济却在稳定政权的领导下继续前进——尽管那是一个威权政府。很多分析家都指出,中国在经济、外交、环保等数个领域都有走到世界前端的机会,而美国的议事立法机器却在渐渐熄火停转。特朗普总统就任以来,两国各自通过的法律间的差别更是清晰无比地凸显了这一点。

America, polarized and paralyzed
极化、瘫痪的美国
On the economic front, the U.S. is divided into Trump supporters, who advocate for privatization of markets and public goods, including national monuments, Medicare, air traffic control, and infrastructure. Trump supporters also back policies that focus on reducing trade and reshoring jobs. On the other hand are Trump opponents, who push for accessible health care, free trade, environmental protection, "green" sector job creation. Donald Trump has acted as a lightning rod for this polarizing controversy, which has resulted in legislative gridlock and national discontent.
在经济方面,美国分成了两边:其一是特朗普的支持者,他们支持市场和公共物品的私有化,后者包括国家纪念碑、联邦医保、空中交通管理权和基础设施,并且赞成那些致力于减少(国际)贸易和使就业岗位重返美国的政策;其二是特朗普的反对者,他们奋力争取的是大众医保、自由贸易、环境保护,并支持在绿色产业创造就业机会。在这场两极分化的争端中,唐纳德·特朗普成了一根避雷针,并最终导致了(国会)议事僵局,引起了全国上下的不满。

How much economic legislation, after all, has been passed under President Trump? Nothing truly consequential. Trump did issue executive orders that impact the economy, including an order to enforce countervailing duties, which were implemented on Chinese steel imports last year, one potentially permitting offshore drilling, and an order for the U.S. government to buy and hire more American products and workers. None of these is considered major, which would require approval of the Legislature.
到头来,特朗普总统就任至今到底通过了多少与经济有关的法律?答案是,没什么真正事关重大的。特朗普确实签发了一些对经济有影响的行政命令,其中包括实行去年针对中国钢铁制定的反倾销税,对海上钻井的潜在许可,以及命令美国政府多买美国产品,多雇美国职工。这些没有一条是重大变动;真正的重大变动是需要立法机构批准的。
China, full-speed ahead
全速前进的中国
By contrast, since Trump's inauguration date on January 20 of this year, China's various government departments have passed hundreds of minor measures and several major economic measures, including measures setting up a large fund to promote high valued added service exports, regulating dangerous asset management products, altering the exchange rate valuation, furthering overcapacity policies, and reforming state owned enterprises, among others. These are major, economy-shaping changes that reflect China's desire to restructure its economy while reining in risks. Furthermore, China's One Belt One Road policy, which aims to build up infrastructure across Europe, Asia and Africa will have a major economic impact on both China and the world, with the U.S. playing a supporting, rather than a leading, role.
相比之下,自从今年1月20日特朗普宣誓就职以来,中国政府的各个部门已经通过了成百上千的小议案和数个重大经济决策,其中包括成立用于促进高附加值服务产品出口的大型基金、整顿危险资管产品、改动汇率估值、加强政策控制产能过剩以及实行国有企业改革等。这些都是为经济塑型的重大政策,反映出中国重整经济、控制风险的意愿。除此之外,中国的一带一路政策则着眼于在欧洲、亚洲和非洲兴建基础设施,这对于中国和全世界的经济都将产生重大影响,而美国却只能扮演辅助,而不是领头的角色。

Ongoing differences, dangerous new similarity
差异持续存在,危险的趋同
To some extent, the difference between China and the U.S. is due to a contrast in regime type. China, with an authoritarian government, can carry out policies from the top down without having to enter into a long debate or even a conversation, while the U.S. must pass most major policies by obtaining the cooperation of Congress and the President, which can take months or years.
在某种程度上,中国和美国间的差别是政权类型的反差导致的。中国的威权政府具有自上而下实施政策的能力,并不需要进行漫长的争议,甚至无需讨论,而美国的大多数重大政策都必须先由国会和总统取得共识才能通过,而这可能耗费数月甚至数年的时间。
However, in less savory ways, China and the U.S. under President Trump are becoming more alike. China has passed legislation that infringes on human rights—for example, banning certain Muslim names for Uighur babies and banning Muslim beards and body coverings. This type of policy would normally have little place in the United States, except of late, as Trump attempted twice to implement a Muslim ban.
然而,中国和特朗普治下的美国却在以不体面的形式变得越来越像。中国通过了侵犯人权的法律——例如禁止维吾尔人给小孩起某些穆斯林的名字,以及禁止穆斯林蓄须和蒙面罩袍等。正常情况下,这种政策在美国是无处容身的——直到最近特朗普两次试图禁止穆斯林入境为止。
Implications for the U.S. and China
对美中两国的意味

This means that the U.S. is at a level of ethics that it has called China out on previously, but at a rate of legislation that is far overshadowed by that of China. Put simply, America is losing its economic and moral superiority to China, with no end in sight. Many Americans would like to see the President support policies and regimes that are more human-rights friendly. This just underlines the fact that the current civil war in the U.S. is one of ideas, one that drills down to the level of basic values and world views.
这意味着,美国如今的伦理标准正处在它此前抨击中国的水平上,但立法效率却远不及中国。简单来讲,美国正在失去对中国的经济和道德优势,而且不知到何时才是个头。很多美国人都希望总统能推行和支持那些更照顾人权的政策和政权,而这恰恰凸显了一个事实,那就是美国如今正在进行的这场内战是关于理念的,它挖掘的是基本价值观和世界观层次上的问题。
China is poised to move its economy forward faster in the short to medium run than America, a nation caught in political paralysis. While China may not have surpassed the U.S. as an economic power, it is coming closer than ever.
中国已经整装待发,要在近期到中期以快于美国的步伐推动经济前进,而美国却深陷政治分析不能自拔。虽然中国作为经济大国或许还尚未超越美国,但它正在步步紧逼。